Spy Software ! Track EVERY Move Your Partner, Employee or Child is making
Do You Really Know What They're Up To...?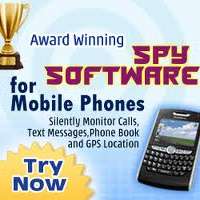 Spy Bubble
"SpyBubble Is Powerful Yet Covert Cell-Phone Monitoring SoftwareThat Tracks And Records ALL Information In Real-Time...
...Which Can Then Be Viewed At From ANY Computer In The World!"
• Track Calls. You can view all incoming and outgoing calls, the mobile numbers, frequency, duration of each call and the conversation itself.
• Track Messages. You'll get to read all incoming and outgoing messages, even if the user deletes them. Find out who the text mates of your child are or if your employee is using the company phone for other matters.
• Track Location. It's amazing how you can also track the exact location of the mobile phone using Google Maps. That would definitely erase any doubts as to the whereabouts of your child or employee. Is your daughter really at her friend's house? Is your employee really at home sick?
• Access Phone Book. You will also be able to view all contacts stored in the mobile.

• It's Undetectable! You can do all these spying without being detected! There is no sound, icon or anything at all in the target phone that would tell the user that SpyBubble is installed.
• Spy On Unlimited Phones. You can also follow multiple mobile phones at a time.
• SpyBubble Is Compatible With: Blackberry, Android, Symbian S60, Nokia, Bluetooth,Windows Mobile And Iphones. it works with almost any smartphone.
WHERE TO BUY?
Du weißt was? Dann schreib' was.
Pageballs ist eine neue Ratgeber und Spenden Community. Verdiene Geld über die Werbeeinnahmen der Seite oder spende deine Einnahmen wohltätigen Organisationen. Moderne Heimarbeit 2.0 und Online Marketing. Jeder kann mitmachen! zur Anmeldung